The Women's Security Council (WSC) awarded seven leading industry women in the second annual Women of the Year awards during the International Security Conference (ISC) West.
April 12, 2013 By Staff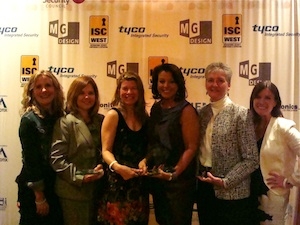 Awards were presented to:
– Mary Jo Cornell, President and CEO of Linstar Inc.
– Pamela Petrow, President and CEO of Vector Security
– Donna Kobzaruk, Vice President, Global Security and Investigations, JPMorgan Chase & Co.
– Bodil Sonesson, Vice President of Global Sales, Axis Communications
– Karen Evans, President and CEO of Sielox
– Martha Entwistle, Editor, Security Systems News
– Volunteer of the Year: Renae Leary, Senior Director of Global Accounts, Tyco
More than 100 conference attendees, WSC members and sponsors were in attendance as the winners were honoured. Some sponsors included Tyco, MOBOTIX Corp., and Siemens Industry Inc.
"Each of this year's award recipients are paving the way for increased roles of responsibility and opportunity for women in the security industry, and they are a reminder to us of the tremendous impact that women leaders have," said Rhianna Daniels, Founding Committee Member, WSC, and Managing Director, CompassPR. "Many of them have assisted in mentoring women in the industry and take this as a critical responsibility in the ongoing success of female security professionals."
Founded in 2010, WSC is a network of successful security professionals focused on empowering women to realize professional success as industry leaders.
---
Print this page