News
FLIR introduces first thermal imager for smartphones
FLIR Systems, Inc. announces the launch of FLIR ONE, the first consumer-oriented thermal imaging system. Introduced at CES 2014, FLIR ONE places the power of thermal imaging technology into the palm of the consumer via an easy-to-use smartphone accessory case.
January 8, 2014 By Staff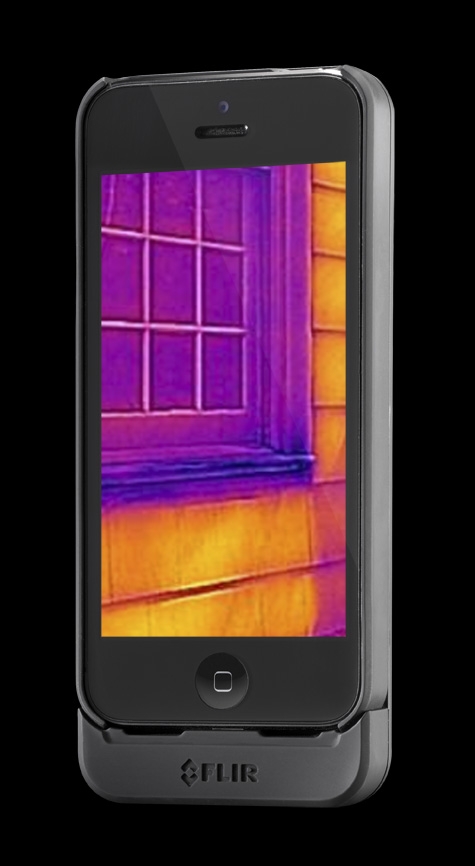 FLIR ONE attaches to any Apple iPhone 5 or 5s smartphone and displays a live thermal image on the phone's screen, giving users the unprecedented ability to see the world in a way the naked eye cannot, including in complete darkness. With a targeted MSRP of $349, FLIR ONE senses heat rather than light utilizing FLIR's revolutionary new Lepton camera core. This core incorporates the same FLIR thermal imaging technology that has revolutionized the way the world thinks about security, public safety, energy efficiency, nighttime navigation, industrial production, preventive maintenance, and the enjoyment of the outdoors.
FLIR ONE's unique ability to see and measure infrared energy gives consumers a versatile new tool that can be applied in a wide variety of applications. For example, homeowners and contractors with a FLIR ONE can easily identify heat or cooling leaks in buildings, find studs in walls, or locate water damage. An outdoor enthusiast can observe wildlife, day or night, navigate in the dark, determine if the day's catch is fully cooked, or make sure a campfire is out by using FLIR ONE. A family can detect intruders in total darkness, find a lost pet, or see through smoke in an emergency using a FLIR ONE.
A worldwide rollout for FLIR ONE is planned for spring 2014, and it will be available in gray, white, or gold colors. FLIR ONE houses its own rechargeable battery that can power the device for two hours of continuous use and can boost iPhone 5 battery life by up to 50 percent.
"FLIR ONE represents a dramatic step in our pursuit of 'infrared everywhere.' As the first truly consumer focused thermal imager, FLIR ONE introduces thermal imaging technology to a completely new group of customers than we currently serve," said Andy Teich, President and CEO of FLIR. "Our products have a rich history of enabling users to do things they thought impossible, and we are enthusiastic to see how consumers enable further innovation through the creation of new applications for thermal imaging."
---
Print this page