Many of these points have been mentioned in previous columns but perhaps they need mentioning again.

May 24, 2017 By Victor Harding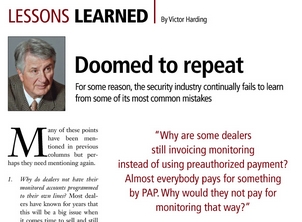 Why do dealers not have their monitored accounts programmed to their own lines? Most dealers have known for years that this will be a big issue when it comes time to sell and still don't do anything about it.
Why do dealers not get signed contracts when they add new monitored accounts? This makes no sense. It is not just that they can guarantee the monitoring for a period. The more important reason is the limitation of liability clause that is on most contracts will help protect you. Also, most buyers insist on contracts.
Why does anybody today sell monitoring for less than $20/month? This makes no sense. Paying $20 to $30 to have someone professional watch over your home or business for burglary, fire, water damage or carbon monoxide for 30 days is a very small amount to pay. The fact that others in your market sell their monitoring for less is no argument. Aside from bringing in less money, dealers with accounts being monitored below $20/month will get killed when it comes time to sell — at least 3X lower multiple or more.
Why do dealers not track their Attrition and Cost to Create? These are the two most important variables in any security alarm business. Very few dealers that I get involved with have good procedures in place around either variable. They don't capture "moves" as well as they could. They don't know why they are losing accounts. They don't know what it costs them to create a new account.
Why are some dealers still invoicing monitoring instead of using preauthorized payment (PAP)? Almost everybody pays for something by PAP. Why would they not pay for monitoring that way? Getting paid $300 up front is thinking short term. Buyers will pay more for accounts with PAP. Accounts with PAP cancel less.
Why do sellers and buyers try to sell or buy security companies on their own without using an intermediary? I see this all the time and almost always there is a glitch down the road. Sellers that do deals on their own, in my experience, almost always leave money on the table, even after factoring in brokerage fees. You simply have to canvas all the potential buyers to get the best price, not talk to just one buyer. On top of this, it takes an enormous amount of time out of your life to do a deal. Finally, sellers tend to expose themselves to more risk from different terms in the purchase and sale agreement when working on their own. As far as buyers doing deals on their own, the scenario is even worse. Dealers know more about how to sell than buy.

Why do so many "small" alarm companies still run their own monitoring stations? There are still dozens of security firms out there using their own monitoring station when it makes no sense to do so. I think dealers that have their own station think they are now a complete/mature/better real alarm dealer. Nonsense. It makes absolutely no financial or technical sense today to have your monitoring station unless you have at least 7,500 accounts and even then, it is doubtful. You will never keep up with the technology of what modern wholesale stations have to offer and the argument that you have better control of your customer's experience just does not cut it with me.
Why don't those running dealer programs sell their program in the B class cities in Canada? Why do they focus all their attention on the biggest metropolitan area like the GTA and Vancouver? Canada has another 30-40 cities where there are alarm dealers that could use a dealer program even more than in the metropolitan areas.
Why don't the larger buyers in the alarm market today do share deals? They do in the buying of integration businesses but not with alarm accounts. Mostly this is about somebody in the large buyer organization years ago saying that share deals are too complicated and risky to do. Ridiculous. It is easy to mitigate your risk with clauses in the purchase and sale. More important, the tax laws in Canada have changed recently against asset deals such that any smart seller is going to almost insist on doing share deals.
Why wouldn't any active player in the industry join their industry association and go to the trade shows in their area? It is not just the fact that an industry organization like CANASA is a great lobbying and educational resource for the industry. It is also CANASA and the trade shows they put on are the best way I know to stay plugged in to what is going on in your industry. The companies that I have run across that participate with CANASA and what they have to offer are usually better off for it.
I believe if we all did a better job on these 10 issues we would have a better overall industry.
---
Victor Harding is the principal of Harding Security Services (victor@hardingsecurity.ca).
---
Print this page